2011.12.31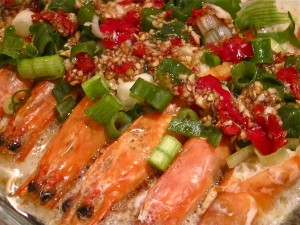 A recipe from well-known Hong Kong TV chef Lisa Fong which was video-taped many years ago by Mum…
Ingredients
8 Large Prawns
7-8 cloves of garlic – minced
1 stalk of spring onion / scallion – chopped
1 medium-sized red chilli – chopped
Egg white (from 2 eggs)
1 tablespoon Maggi seasoning sauce
Dash of sesame oil
1/3 tsp sugar
Small amount of cooking oil
Method
Prepare the prawns – snip off the attenae, the legs, the rostrum and telson with a pair of scissors. Slit the shell on the dorsal end with a pair of scissors and de-vein the prawn. Slit the meat on the dorsal end with a knife. On the ventral end, snip the "sinew" transversely at intervals along the length of the prawn — this will prevent the prawn from curling up as it cooks.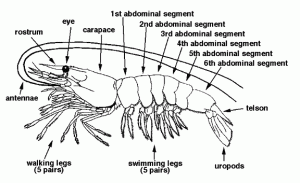 Line the prepared prawns onto a steaming tray/dish and add egg white to the tray. The egg white will set with cooking and prevent the prawns from moving around.
Add minced garlic to the dorsally-slit-open prawn meat. Keep the extra garlic in a small bowl — we will use this to make the gravy.
Bring a wok of water to boil and place steaming tray on steaming rack in the wok. Cover and steam for 6-7 minutes.
While the prawns are steaming, prepare the gravy: Place remaining minced garlic and one chopped red chilli into a small bowl.
In a separate small bowl, mix Maggi seasoning sauce, sugar and sesame seed oil well.
Heat up cooking oil in a small saucepan.
When the prawns have finished steaming, sprinkle spring onion onto the cooked prawns.
Pour half of heated cooking oil onto the spring onions/cooked prawns — this will bring out the fragrance of the spring onions.
Pour rest of heated cooking oil into the small bowl containing the minced garlic and red chilli. Add the Maggi seasoning/sugar/sesame seed oil mixture and stir well.
Pour gravy over the prawns/spring onion.
Serve hot!